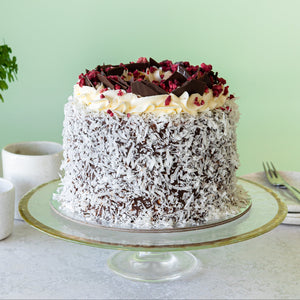 Two Layer Lamington Cake
Regular price $120.00 Sale
Two layer vanilla sponge cake iced with chocolate ganache and rolled in coconut then topped with vanilla buttercream, raspberry coulis and chocolate shards. Our take on a classic style lamington in cake form, so yum!
Please note: each cake coming out of our bakery is lovingly hand made and will not look exactly like the photos. Each cake has its own character which is what we love!

PLEASE READ: All website orders are for pre order with atleast 24hrs notice.

We often have cakes available spare for same day pick up. Please ring the store on 0211042526 to see what we have available.
Delivery: We deliver Monday - Friday using Urgent Courier. The order must be over $50 as we absorb some of their delivery fee. We deliver to the surrounding suburbs ($10) , central Auckland/CBD ($15), some East and South Auckland areas ($15), Airport area and further South plus further central west ($20).
Enter in your postcode below to check if it is available. We do not deliver to the North Shore or further West sorry. If you need a weekend delivery please call the store as Urgent Courier charge an extra weekend fee. Thanks!